As has been well-publicised in recent months, New Zealand's property market exceeded nearly everyone's expectations in 2020 – particularly in light of Covid-19.
Unanimous bearish predictions from economists when the country was in Level 4 lockdown in April have all been proven wrong, as the market continues to go from strength to strength.

Something that hasn't been talked about as often is that when we look back on 2020 as a whole, the property market actually performed better than what was predicted prior to the emergence of Covid-19.

The latest REINZ statistics for December display some startling results. New Zealand's national median house price us up 19.3% to a whopping $749,000; the number of properties sold in December 2020 was up 36.6% when comparing to the same month in 2019; the number of properties sold across 2020 was up 8.9% compared to 2019 and the average days to sell came in at just 27 – four days less than the average in December 2019.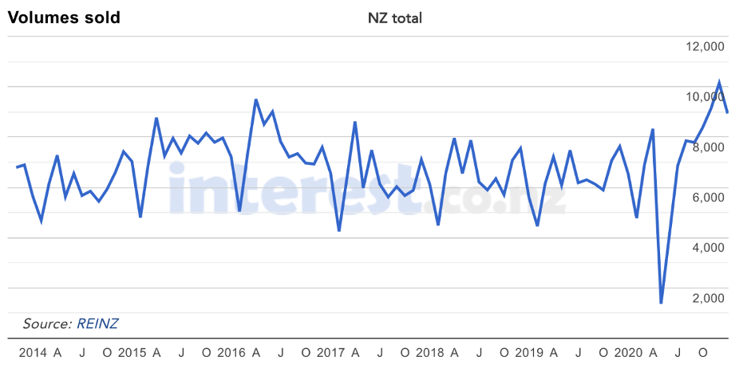 Last year ended on a strong note, with volume and values holding a consistent increase for the last quarter of the calendar year. The drivers for this increased activity are still active and apparent in the market, leading to what economists would say are "more upside than downside factors in the economy and property market".
The ''upside factors''
Demand
Despite an 8.9% year-on-year increase in homes sold across the country in 2020, the majority of Professionals offices are still reporting strong demand that far outstrips supply as we enter the new year. As with any market, as long as the balance tilts towards demand, prices will increase.

Unemployment
One of the strongest indicators of a healthy economy is a low unemployment rate. Although New Zealand's unemployment rate was originally predicted to hit 11% during 2020, the rate peaked in 2020 at 6.5%, with most of that number coming from the hospitality and tourism sectors. Although this is still not a positive for the economy as a whole, the fact that it appears not a large number of newly unemployed people were in the market to purchase a home means the rate increase has not had an impact on the housing market. As the unemployment rate is tipped to decrease in 2021, this will have a further positive impact on both the economy and the housing market.

Key exports are strong
Although we have lost inbound international tourism as a key contributor to our GDP, New Zealand's key primary industry exports are performing strongly on the global markets with prices up all round for dairy, meat and wood.

Low interest rates & available funds
Although most economists are not forecasting further decreases in the OCR, and there isn't any more discussion of a negative rate which could result in significant reductions in mortgage rates offered by the banks, there is still likely to be strong competition between the banks and low (sub 4%) mortgage rates available well into 2022.

As the future global economy looks to stabilize, this will give the banks more confidence to lend. They'll potentially reduce their repayment criteria and be more open to lending to people who had previously been perceived as riskier, such as self-employed people, or people directly impacted by the pandemic.

Infrastructure spending
The high level of spending promised by the government on infrastructure in the coming years will give added stability to the wider economy. Employment in construction sectors will also have a long-term positive effect on the economy, which in turn impacts the housing market.

Construction boom
Within the new build sector, there are a number of factors that impact the housing market. Firstly, when the property market is strong, developers and lenders have greater confidence in funding and executing new housing projects. This in turn creates more jobs in the sector and supporting industries. And as previously mentioned, the imbalance between supply and demand is what drives price increases in the market. Due to the timeframes needed to build the new homes, combined with various other factors influencing the sector such as a lack of qualified and skilled labour, it is unlikely for supply to catch up to demand in the next 12 to 24 months.
The ''downside factors"
Labour shortages
For any economy to grow effectively, it needs to run efficiently, and key to this is a readily available supply of skilled labour that innovates and drives growth. Due to the border restrictions, New Zealand currently has a shortage of skilled labour in many industries. This is particularly felt in the construction industry which could act as a handbrake to many sectors.

Business closures
In the areas most hit by Covid-19, many business owners have been using personal reserves to continue to operate, which can only go for so long. In some parts of the country our teams are currently being asked to appraise the homes of business owners who have been directly impacted by Covid-19, such as those in tourism, in the event that if they cannot make it through to the opening of the borders, they may need to sell their assets.
Those living in Auckland will have also seen a number of businesses in the central city close their doors in the last 12 months as they cannot weather the storm until international students and tourists are allowed back into the country. This will have a two-fold effect on the economy: business closures mean unpaid suppliers and job losses. This is in addition to the fact that when the borders do open up, we won't have the infrastructure and businesses operating to offer the experiences and services sought by international tourists.

Strong New Zealand dollar
The Kiwi dollar is currently sitting well over 70 cents in comparison to the US dollar. Although this is an indication of the strength of our economy, it can also have negative effects on the overall economy, reducing the returns of our exports and impacting the competitiveness of our low margin primary export goods.

At this point in time, short of another global shock such as newly developed vaccines being ineffective against a new strain of the virus, a national lockdown due to community infections, or another unforeseen crisis, the number of broader economic and housing specific positive influences outweigh the negative foreseeable impacts.

These factors continue to make the current New Zealand property market a strong seller's market, and a time when a trusted and reliable real estate is worth every cent of their commission to ensure sellers are realising the full potential of their assets and being put in the best possible position.

If you are thinking of selling contact your local Professionals team for a no-obligation free market appraisal, or for a quick guide on the value of your home use our regularly updated e-valuation tool.