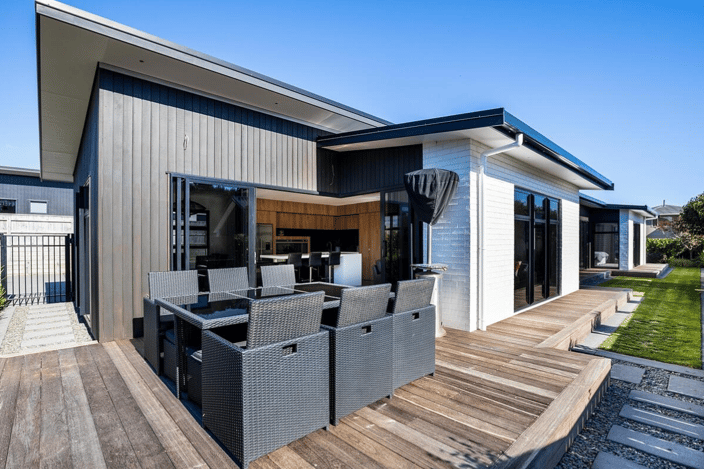 Top 4 things you need to know about the market:
Median house prices across NZ vary by region
All regions saw an annual decrease in the number of sales
The total number of properties available for sale nationally increased 70.8%
For those motivated to sell, conversations with real estate professionals will be vital to understanding the nuances of the local market and ensuring the best outcome
April shows a further slowdown in sales activity, more moderate price growth and, as properties stay on the market for longer, it appears favourable to buyers backed by equity, according to the latest data and insights from the Real Estate Institute of New Zealand (REINZ).
Shaun Taylor, Chief Executive at Professionals says that April's data shows the market is still favourable, particularly for buyers. "The market is at the mercy of many external factors which may give the impression that it is unstable or unpredictable, which isn't quite the case when you look a bit more closely. While there is a cyclone of external macro market factors in play such as inflation, supply chain issues and wars, you can find solace in the eye of the storm in the property market.
"For buyers there hasn't been as much choice in the market for some time, there are more listings across the country than there have been for three years. In comparison to a year ago - you can buy with conditions, you can take your time without the FOMO of the previous years, and there is an end to the credit crunch in sight as the Government reviews the CCCFA legislation. Historically mortgage rates are low and if you secure rates now for 2 or 3-year fixed terms you can ride out the interest rate increases through the peak of inflation.
"For sellers, particularly those selling to buy, this is an opportune time. Depending on where you live you will be selling into a fairly flat or decreasing market. You can sell before you buy so you can go into the next sale as a cash buyer and not have to worry about bridging finance or renting before you find the next home. You can be confident that you won't be priced out of the market in three months and although there might not be as many offers for your home, there isn't the same intensity to sell, or as was often the case in previous years - buy before you sold, which created enormous pressure to sell quickly".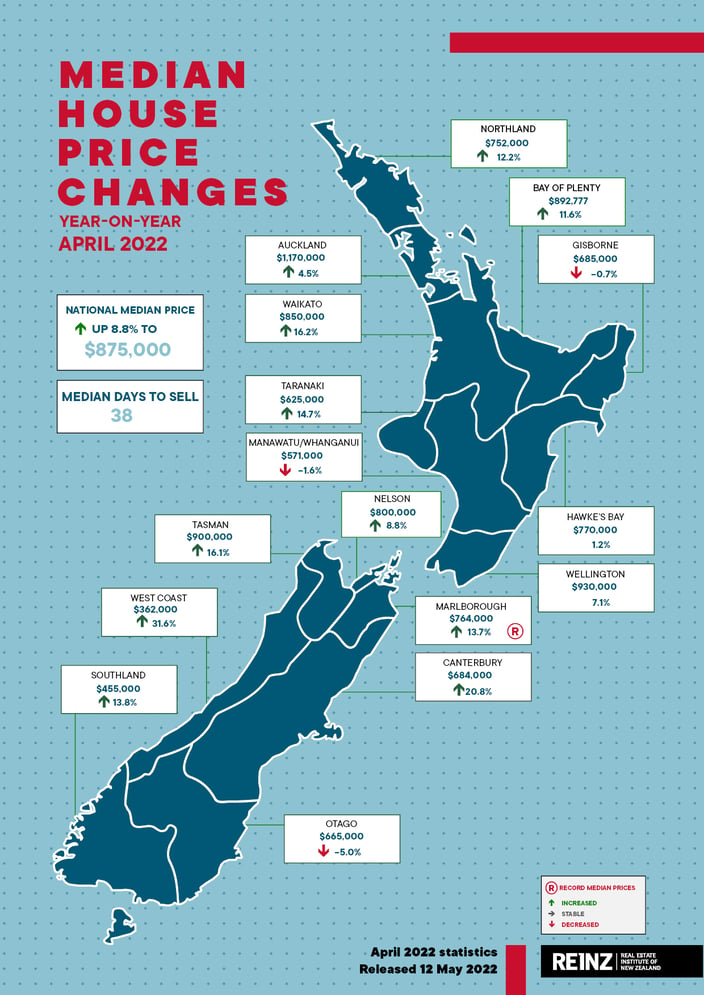 Jen Baird, Chief Executive of REINZ, says: "We're now in the phase of the property cycle where demand has weakened, sale counts are down but prices remain high. We're seeing a slowdown in activity, there is more stock staying on the market for longer, and while annual price growth is more moderate, the month-on-month trend shows a fall in median prices.
"April residential property sales decreased annually by 35.2% across New Zealand, a story reflected across all regions. Looking at the underlying reasons for the continued decrease in sales count, the seasonally adjusted figures provide some insight. Last year sales volumes were underperforming due to supply challenges, and post-October 2021 when we began to see an influx of stock, it became a market underperforming due to demand challenges.
"Those who are backed by equity and secure in a job market with a low unemployment rate, will continue to see opportunity in the market as more stock increases choice, and prices ease. Owner-occupiers are the most present and active in the market, so while we see a softening in the mid to low price range, interest is solid in the mid to high bracket" Baird observes.
Median prices show volatility by region
Annually, the median property price increase 8.8% across New Zealand. There is a lot more property on the market and combined with a less positive financial and economic outlook, we are seeing demand dissipate — alleviating upward pressure and moderating price growth.
Shaun Taylor says that we are seeing moderating price growth. "As potential buyers examine the financial circumstances and their increasing possibilities on the market, fear of overpaying has surpassed fear of missing out. Despite this, and despite the evident shift in market mood, some vendors' expectations have risen above what the market is ready to pay, and it's possible that some may choose to hold off on selling after 'testing' the market.
"For those motivated to sell, conversations with real estate professionals will be vital to understanding the nuances of the local market and ensuring the best outcome" advises Taylor.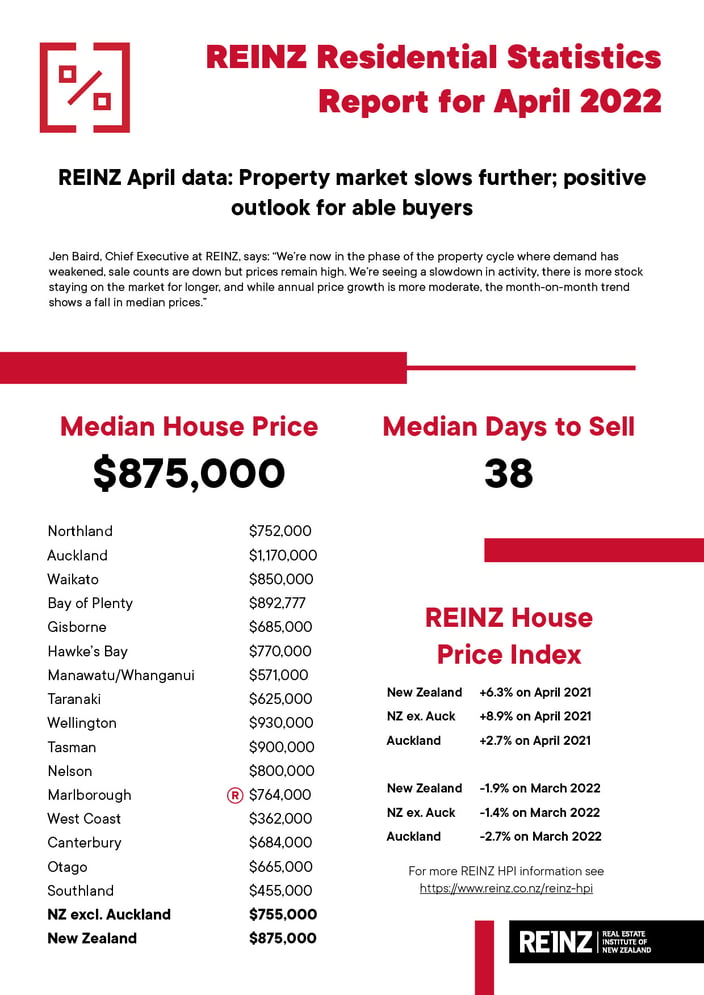 Inventory scales tip — supply outweighs demand
In April 2022, the total number of properties available for sale nationally increased 70.8%, from 15,838 in April 2021 to 27,050. For New Zealand excluding Auckland, inventory increased 93.3%, from 8,825 to 17,060.
"In principle, more inventory and a slower pace of sales benefit all purchasers by providing them more options and more time to shop around and conduct due diligence. Property prices have remained relatively stable, and the current financial and economic environment has limited the appetite and ability of some buyers to participate in the market," Taylor observes.
What's to Come
Shaun Taylor, Chief Executive at Professionals says an agent who keeps you updated regularly is crucial. "The old adage of selling and buying in the same market has never been so true, and as always the value of a good agent, who gives you honest feedback and consistent communication through the process is incredibly important. So when choosing an agent make sure you ask them a few key questions, test them on their local knowledge, ask them about the clearing rates for local auctions, how many offers they have received on the last three properties, what has stopped people from buying over the last few months, and what can you do to your home to maximise its value etc.
"Remember you don't want the answers that make you feel better, you want the truth, someone who isn't afraid to tell it like it is, someone you can trust. I back all our agents to do that, know their market and tell it like it is for their vendors' success.
"If you buy now and then there is a further drop in the market, you can be assured of the fact that the New Zealand housing market has proved that if anything it is resilient over time and there hasn't been a period of more than five years where the market has fallen and then come back more positive than before, you can't lose over time with property.
"There may be an inflation-induced recession on the horizon, but this will be a mild one. We still have a strong economy which positions us well for the future, our employment rate is the lowest in living memory, primary exports are still in strong demand overseas, and what has traditionally been a strong export sector – tourism, is about to rebuild, meaning that the economy is stable and the outlook is good".