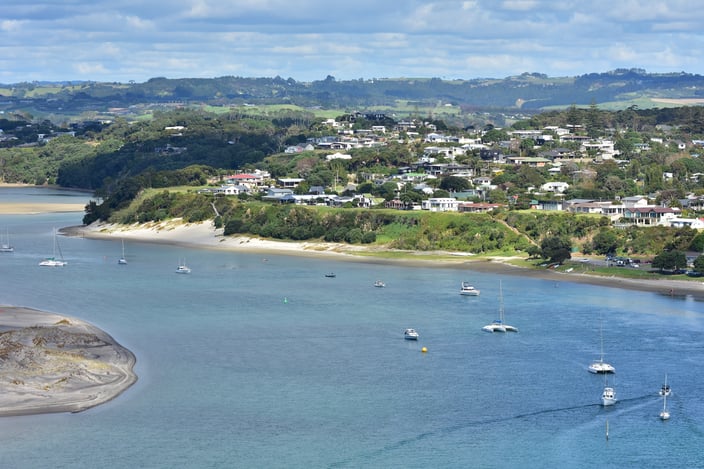 December marked the end of a chaotic year for many, offering a welcome chance to relax and unwind. One thing that didn't take a break over the festive season was New Zealand's property market, which is arguably the hottest it's ever been and shows little sign of slowing down.
Demand outstripped supply for yet another month, with the number of properties available failing to meet the incredible demand from existing and returning New Zealanders. The total number of properties available for sale in New Zealand decreased by 29.1% from December 2019, which is the lowest level of inventory ever recorded. This imbalance, coupled with ongoing mortgage rate wars from major banks, continues to be a key driver for rising house prices around the country.

Recently released data from the Real Estate Institute of New Zealand (REINZ) shows yet another month of record numbers across every key region. Overall, the highest number of properties ever sold in a December month was recorded, with 8,935 properties transacting last month and a median number of days to sell of just 27.
Soaring medians
The national median house value grew by 19.3% year-on-year to hit $749,000 for the first time, with 11 regions and 27 districts experiencing record high median prices.

In Auckland, the median house price increased by 17.4% from $886,000 at the same time last year to $1,040,000, a new record high for the fifth consecutive month. In total, 11 regions experienced record median prices.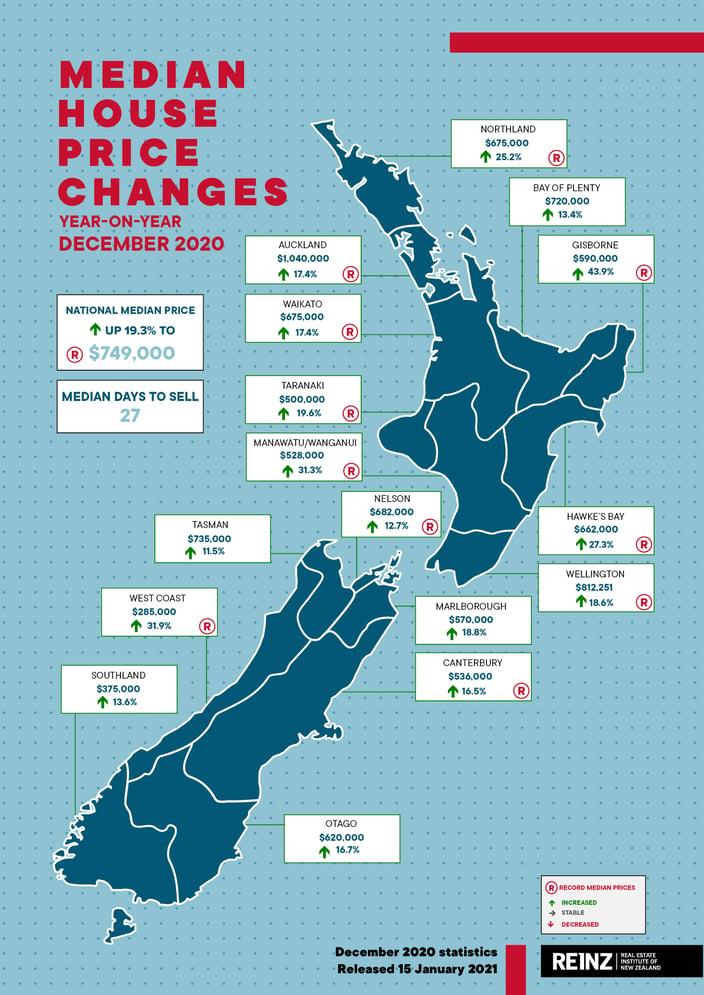 The highest increases were seen by Gisborne ($590,000, a 43.9% increase year-on-year), West Coast ($285,000, a 31.9% increase) and Manawatu/Wanganui ($402,000, a 31.3% increase). No regions saw a decrease in median values, but the smallest gains were seen in Nelson ($605,000, 12.7% up) and Canterbury ($460,000, a 16.5% increase).

"With median house prices rapidly increasing, Professionals agents across all our regions are reporting multiple offers on most listings and extremely positive outcomes for vendors, both in terms of price and conditions of purchase," says Professionals CEO Shaun Taylor.

"Vendors are able to introduce flexibility to the purchase, such as a longer settlement if they're still in the process of finalising their new home," says Shaun.

"This is where an experienced agent will work for the vendor and negotiate not only the best price for the property, but the best overall outcome of the sale within the legal requirements."
The next steps
With the market moving incredibly quickly, the first thing to do if you're considering selling is to utilise an online valuation tool to give you an indication of the value of your own home plus homes you're looking to buy. One of several options is the Professionals online evaluation tool, which is quick and easy to use.
"If you're selling a property, the most cost-effective indication of the current value of your home is a Market Appraisal by a qualified Real Estate Agent," says Shaun.

"There is no cost – or obligation – to receive an appraisal, and all Professionals agents are happy to talk you through the process, come to your home, and provide you with a comprehensive estimated range on the value of your home using their local knowledge, backed by sales data in your area."

There are so many things to consider when buying and selling property in the current market, and so many benefits to acting quickly. In a hot market, you need an agent with a cool head. So contact your local Professionals team for a friendly, no-obligation chat if you are thinking of putting your property on the market.