For only the second time in a decade nationally, the number of new residential listings in the month of March exceeded the number of new listings for February.
Led by Auckland, Waikato, Wellington and Canterbury, these regions' new listings experienced double-digit growth compared to the same time last year. The Wairarapa also recorded double-digit growth in new property listings.
Prior to this the New Zealand real estate market has been relatively flat— a significant change compared to the volatile nature of 2016. So if you're thinking about selling, this could be a great time. You can have confidence that your next purchase will be in the context of a more stable price environment.
Whether you're a first-time seller, or have experience selling a number of homes, this article includes valuable information relevant to you. We explain the key current market indicators and provide property insights on how these show it's a great time to sell.
If you're thinking of selling and want to find out more about the current trends in the NZ property market, and get some great tips for selling your home, download our eBook "How to get ready to sell your house".


Auckland leads the way
Auckland had the highest number of new residential property listings for the month of March, with 4,700 - an increase of 20.5 per cent compared to the same month last year.
Inventory levels show that if no new houses came onto the market, all the existing stock would take 19 weeks to sell out. The long-term average for the Auckland region is 23 weeks.
If you're looking at selling your property, this means now could be a great time. Previously, in the rapidly changing market of 2016, if you sold a property it was difficult to predict how long it would take you to find your new home. Given the more stable market environment and increased inventory, those looking to sell now don't share the same concerns.
Adding to this, asking prices have remained at the same level in Auckland, with an average asking price of $952.542 in March.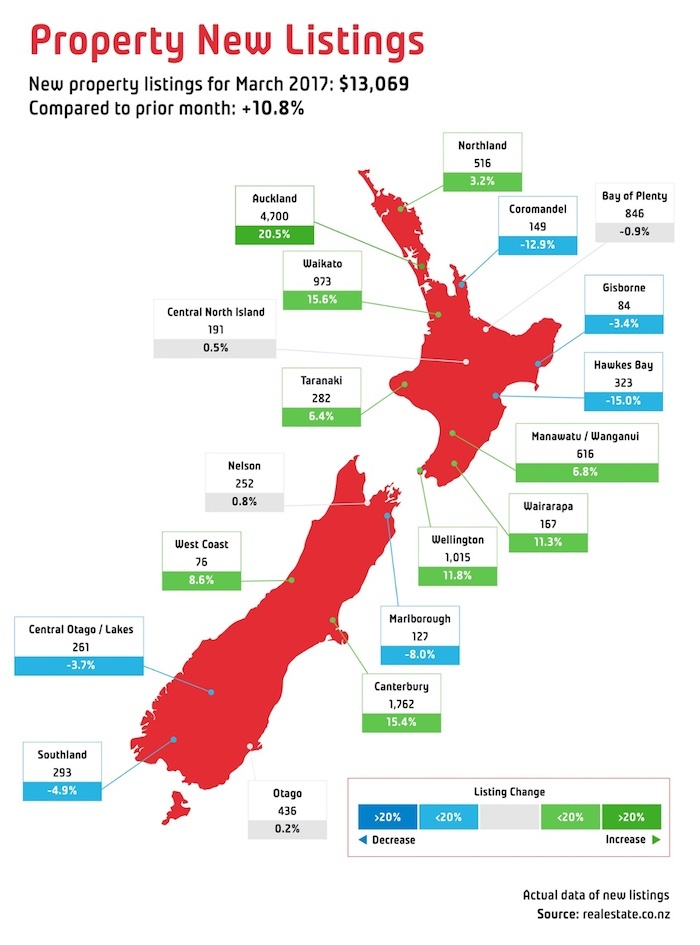 Waikato, Wellington and Canterbury
In Waikato new property listings in March were also up on February, by 11.7 per cent, but were slightly down on the same time the previous year, indicating a high turnover of properties. Asking prices increased to $540,356, with is a record high. This is likely to be the effect of Aucklanders migrating south due to rising house prices.
Wairarapa was the 'hottest' region in New Zealand in March, topping the chart with a 33.6 per cent increase in demand due to limited stock. In Wairarapa and Wellington new listings were slightly up. However, Wairarapa recorded the biggest drop in residential stock, down 44 per cent, while Wellington levels fell only 4.7 per cent. This could be due to the Wairarapa's significantly lower asking prices while still being accessible to Wellington.
In Canterbury new listings in March rose to 15.4 per cent compared with the same time last year. However, inventory levels were down to 19 weeks compared to the region's long-term average of 25.
For more information on NZ property market trends, check out our eBook "How to get ready to sell your house" here!