During the holiday season, while we were unwinding and taking stock, it could be easy to assume that the property market was also taking it easy. And although this has been the case for many of the areas around the country, Auckland stands out as continuing to have an increase in the number of properties going into the market.
With December's statistics showing property numbers for sale in Auckland being on the rise, a stable market and a slight rise in inventory - this could be a great time for you to invest in the Auckland property market.
Find out more about the current trends in the NZ property market by downloading our eBook "How to get ready to sell your house".
Maybe you've been looking to buy something larger with more room for your family? Perhaps you've thought of renovating, but are fed up with the cost and consent process? A bigger house can mean a bigger mortgage, but if you're buying at the right time and price then this may not always be the case, or the increase may not be as large as you thought. Here's a few things you need to know about the current New Zealand property market.


New Listings
Real time market statistics for December 2016 show that nationally the number of new listings was down 5.1% compared to the same time in 2015, but Auckland saw a strong increase in new listings with 12.9% - this is great news for the Auckland buyer, with more properties meaning more choice and buying power.
The total number of properties on the market in Auckland was up 18.4% compared with the previous December. In all other areas of NZ, the total number of properties for sale was down.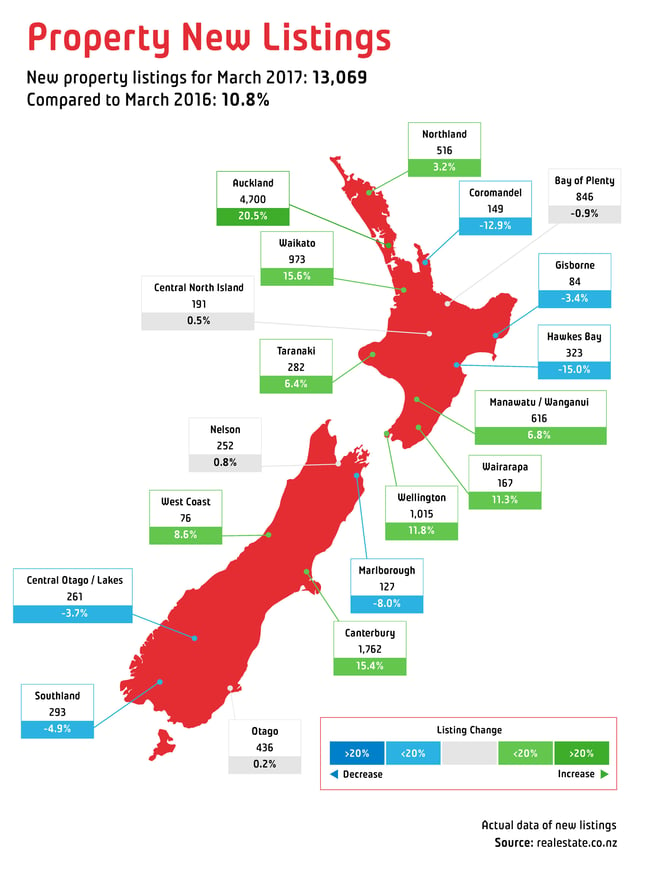 Property Asking Price
Nationally the average property asking price increased further to a new unprecedented high of $617,847, but in Auckland the average remains stable compared to the previous month, at $949,898.
There were some drops though with the biggest being in Marlborough at nearly a 9% drop to $435,297.
Across the country though the trend is that most regions are going up in asking price (rather than down).



Inventory
Auckland shows to be the exception again to the national trend when it comes to inventory in December. Auckland has risen from 14 to 15 weeks, being the only one of our major centres to show an increase.
Wellington's usually slim market supply was emphasised with inventory listings dropping to six from eight weeks, Canterbury went from 18 to 16 weeks and Waikato from 13 to 12 weeks.
Remember: Inventory of listings tells us that if there were to be no new properties to come onto the market from today, theoretically there would be no properties left for sale in these regions within 6, 12 and 16 weeks respectively.
Need advice about selling? Learn more about the current trends in the NZ property market by downloading "How to get ready to sell your house". It's full of handy tips to help you and your family make the right move at the right time.