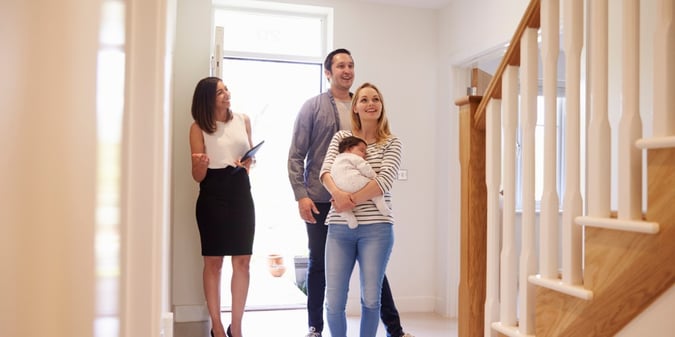 Is your home a little small for your growing family? Maybe your commute is longer than you'd prefer, or perhaps you'd like to be closer to friends and family.
Whatever your reason for upsizing your home, you've got some serious thinking and planning to do to make sure your next move is the right one. To help you get started, we've put together four handy tips for upsizing your home.


Want to learn more about selling property in NZ? Learn more here.
Figure out what you need

Take a moment by yourself or with your co-purchaser to consider why you need to upsize, and which boxes your new home needs to tick:
Is your current home too small? Think about how much more space and how many rooms you'll need.
Are you too far away from work, family or friends? Consider the location you'd prefer to settle in.
Do you need a bigger backyard for pets or kids? Could you move a little further out to get a larger section?
What are your plans for the future? If you're hoping to start a large family, it's always best to buy a property that you can grow into rather than move again in a few years.
Write a list split into must-haves (the stuff you absolutely can't compromise on) and wants (the stuff you want, but can go without). Keep these in mind when you start searching to make sure you find somewhere that ticks all the right boxes.
Prepare a budget and get home loan pre-approval

Once you know what you want in a home, you need to figure out if you can realistically afford it. Take a look at some property listings online or use our online valuation tool and for some local knowledge speak to a local real estate agent to figure out roughly how much you'll need to spend.
Then go straight to a mortgage broker or your bank to talk through your options. If you're planning on selling your property, you may need a bridging loan - an interest only loan on your new place that gives you 12 months to sell your old one. Whatever you do, you should always get home loan pre-approval before you start house hunting so that you can bid or make offers with confidence.
Location, location, location
If you're moving to a new location you should find out as much about it as possible. What are the restaurants, shops and community centeres like? Is it close to the amenities that matter to you like transport links and good schools? Will the area actually be an improvement on where you are now, and if so, why?
To gain local insight spend time in the area and speak to a real estate agent who is well established in the local community.
Consider resale value

First and foremost your new home should be somewhere you love to live. With that said, buying a new property can also be a great way to store and grow wealth. To make the most of that opportunity you need to consider a home's potential future resale value when buying.
Do a little research and find out more about:
Historical movement of property prices in the area.
Whether the property itself has increased in value in the past.
If it's the type of property that is in demand with buyers in the area.
What's planned for the future of the suburb and/or region, including large housing, commercial or infrastructure developments.
Upsizing your home can be a huge challenge, but if you break it down into smaller steps and goals it's easily doable. To get started you'll have to consider what you need from your property, what you can afford, which location is right for you and whether the property will resell at a profit. If you need a hand at any stage of your purchase give the friendly team at your local Professionals Real Estate office a call today.