Like any true blue kiwi, you pride yourself on turning your hand to most things. Selling your wheels at the car fair – no problem. Turning your old couch into cash – too easy. You worked in retail to pay your way through university; so you are, by definition, a pro at this selling lark! But what about your house?
Before you make a decision either way, let's walk through what's really involved in selling your home, and see whether you are indeed up for the challenge.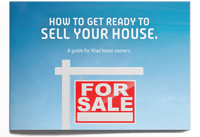 Want more expert advice on whether you should enlist the help of an agent, or go it alone? Check out our free guide, "How to get ready to sell your house".
Why wouldn't you leave it to the professionals?
Commission.

The single biggest reason sellers entertain privately listing their home is to save on commission costs. A perfectly valid reason. Keep in mind, this is how real estate agents get paid and is a great incentive for them to do their job well - and get the best price for you.
Consider other costs involved with listing privately such as additional legal fees, marketing, and your precious time.
I've done it before.

If you've been walked through the process before (or bought and sold a couple of times), you'll have a good idea of the steps involved and the amount of work ahead, and you may have the confidence to go it alone.
Consider the value an agent can add with experience, industry and area knowledge, and a network of potential buyers.
I'm a self-professed control freak!

Like to be 100% in control 100% of the time? Feel like your in-depth knowledge of your home will help it sell? Finding an agent that you feel comfortable with and will keep you informed along the way could put you at ease.
Consider the bigger picture – aside from advertising and holding open homes, would you be comfortable negotiating? Are you across the legalities involved in selling? Sometimes being 'once-removed' has it's advantages.
Are you ready to go it alone?
Download our free eBook "How to get ready to sell your house" and get a refresher on all that's involved in the selling process – setting a price, deciding on a sales method, tips and tricks for open homes, and more. Work out a rough guide of how much of your time will be required. Can you realistically commit to this and give it your all?
What can an agent offer me?
A good agent is an experienced professional in their field, with the skills to match:

Extensive knowledge of market conditions

Legalities associated with the process including zoning, council regulations and tax requirements

Marketing and negotiation skills

Access to a network of potential buyers

Desire for a successful outcome – they have a reputation to uphold.
Working with an agent you trust can give you the best of both worlds – as little or as much involvement as you feel comfortable with...and way less stress.

If you're unsure of what you can reasonably expect an agent to do and how to choose the one that's right for you, download our free eBook "How to get ready to sell your house".