Should you stay or should you go? Take our test to see if now is the right time for you to make the move.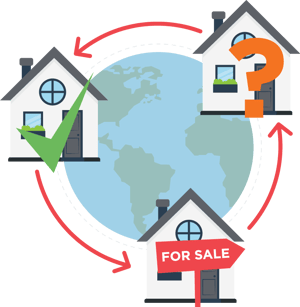 Tell tale signs that it's time to sell up for 'greener pastures' are when your home stops being something you gush about to a friend over morning coffee, or you're late for work because you couldn't find the kids school notices amongst all the rubble on the kitchen table (again).
Need more space? It's time to take our test.
Understanding the difference between needing to have a garage sale and no longer having the space in your current house to breathe; are two extremes with far too many 'ifs and maybes' in between.
To help you get started with understanding whether you need to sell up shop or stay put and look at doing some DIY, we have designed a fun quiz that will help you weigh up some common considerations when making your decision to move.
At the end of the quiz you'll not only be a little bit closer to your answer, but you'll also be starting to form an idea of what you want in your next property; regardless of whether it's the right time to sell or not.
Put the kettle on, grab your partner and have some fun doing the quiz together.
Why not try printing out two copies and answering them separately first? That way you'll be able to identify what you're each missing (or completely 'over') in your current home and you can compare notes in a relaxed way. It may be just the conversation-starter you need to get team family on board.