While January figures usually reflect the holiday slowdown, data and insights from the Real Estate Institute of New Zealand (REINZ) suggest compounding factors are influencing a decrease in sales activity and easing of price growth nationwide.
Across New Zealand, the number of residential property sales decreased 28.6% in January 2022, from 5,135 in January 2021 to 3,665. While market activity is expected to reduce over the holiday period, when we look at the seasonally adjusted figures there is a 5.3% decrease from December to January. Allowing for the usual seasonal trends, this January is weaker than a typical first month of the year.
The sales count for New Zealand excluding Auckland, decreased 26.4% annually from 3,184 to 2,342. Excluding April 2020, which was heavily affected by the first COVID-19 Alert Level 4 lockdown, this was the lowest sales count for New Zealand and New Zealand excluding Auckland since January 2011. These figures are reflective of the usual slow down in activity over this period, perhaps magnified by more people focusing on the holidays following extended COVID-19 restrictions and headwinds such as LVRs, the CCCFA and interest rates impacting the number of active buyers in the market.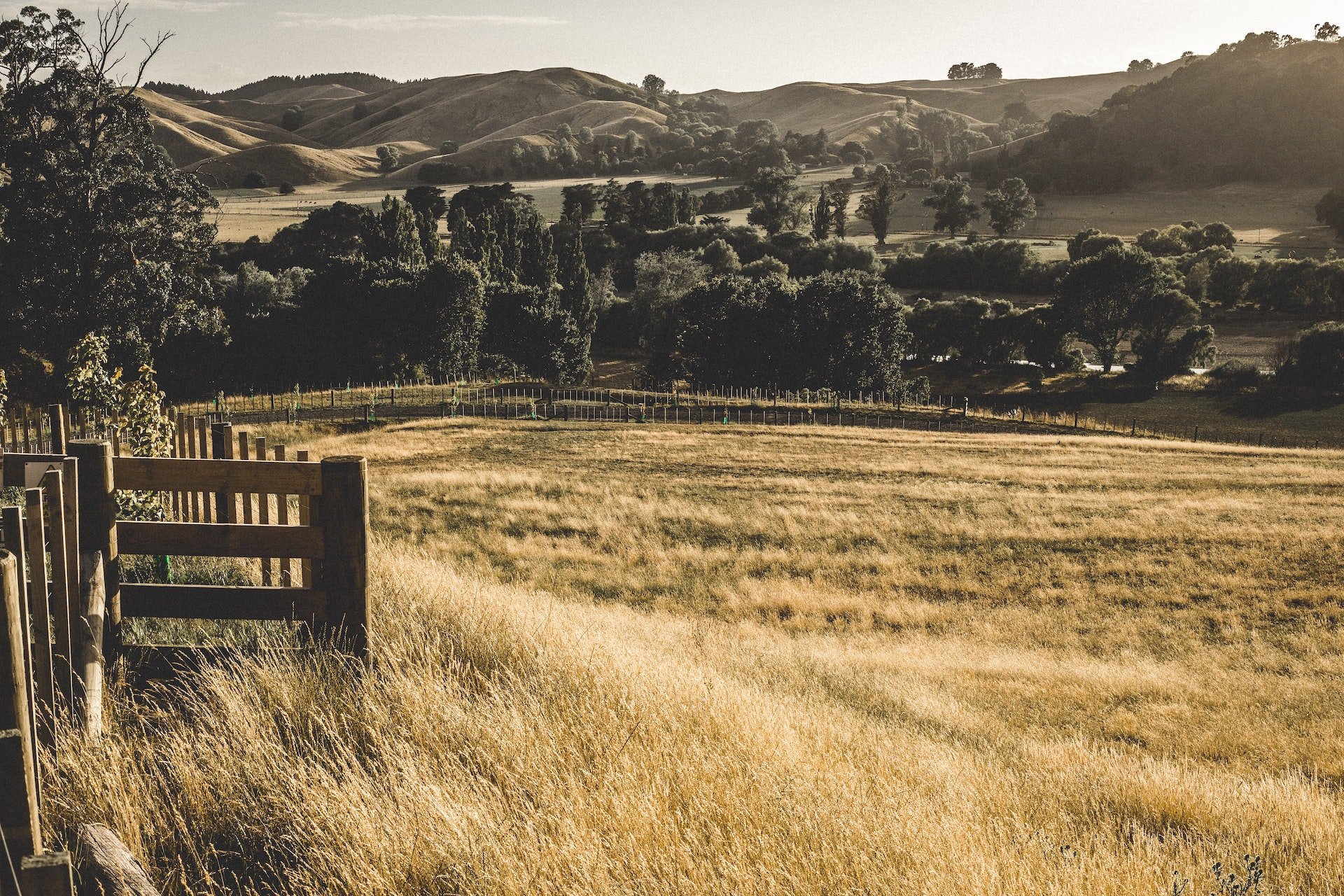 Three regions bucked this trend and saw an annual percentage increase in sales:
Wellington increased 9.0% annually from 290 to 316
Marlborough increased 7.7% from 39 to 42
Hawke's Bay increased 2.5% annually from 121 to 124.
Auckland saw the number of properties sold decrease 32.2% annually — from 1,951 in January 2021 to 1,323 in January 2022.
In terms of the January month, this is the lowest sales count since records began in 1992 for Nelson, Otago, Taranaki and Manawatu/Whanganui, and the lowest for Tasman since 2000.
With respect to inventory, or the number of homes on the market in January, it increased by 28.5% as more homeowners chose to put their homes on the market, increasing from 15,480 in January 2021 to 19,897 — an uplift of 18.6% on December's inventory levels. All regions showed a year on year increase in inventory levels apart from the West Coast.
"Most regions report the move to the Red traffic light setting has had less of an impact on activity, and out of town enquiry has been restored. However, feedback from agents across the country suggests a decrease in the number of first home buyers and investors in the market, noting quieter auction rooms and open homes". Comments Jen Baird, Chief Executive of REINZ.
Professionals Chief Executive Shaun Taylor agrees saying industry feedback is pointing to the Credit Contract and Consumer Finance Act (CCCFA) as being the largest contributor to low sales numbers and price growth stalling. "January has seen one of the slowest months in recent history in terms of sales across the country, and this has been caused predominantly by a tightening of credit. Although there are other factors at play such as an increase in stock, mortgage rate rises and the emergence of Omicron our agents across the country are telling me that the badly constructed CCCFA, which came into effect on 1 December 2021, has had its fullest impact in January.
"This is in a sense a false reduction in demand, or a reduction caused by external forces as opposed to a true market reduction such as affordability. In the past when regulation has imposed a reduction in demand the market adjusts within three to six months."
This is a sentiment echoed in a survey conducted at the end of January by economist Tony Alexander in collaboration with REINZ, which noted that the predominant concern for buyers is no longer availability of stock but rather financing.
Median price of a home in NZ has remained stable, while the growth rate has slowed
Annual median prices for residential property across New Zealand increased 20.5%, from $730,300 in January 2021 to $880,000 in January 2022. While median prices were down 2.2% compared to December ($900,000), REINZ's seasonally adjusted figures indicate prices held up slightly better than we would usually expect when moving from December to January, showing a 1.4% increase.
The median residential property price for New Zealand excluding Auckland increased 24.6% from $602,000 in January 2021 to $750,000.
In January, two regions achieved record medians and one saw a record equal:
Northland increased 29.6% annually from $625,000 to $810,000 — a new record median high for the third month running. Additionally, Kaipara District ($1,000,000) and Whangarei District ($810,000) reached record medians
Bay of Plenty increased 22.8% annually from $767,000 to $942,000 — a new record median high. Additionally, Opotiki District ($666,000) and Whakatane District ($878,000) reached record medians
Taranaki increased 21.2% annually from $520,000 to $630,000 — an equal record median to that previously reached in October 2021. Additionally, South Taranaki District ($515,000) reached a record median.
All regions showed annual price growth — most double-digit percentage growth. Only Nelson and Southland saw annual growth less than 10% at 7.4% and 9.7% respectively.
"While there has been a slowing in the rate of price growth, this comes after a particularly strong 2021 as a result of historically low loan rates and a supply shortage. Market dynamics are evolving as the Reserve Bank raises interest rates, inflation rates reach their highest level in 30 years, lending conditions tighten, and government regulation tightens" says Shaun.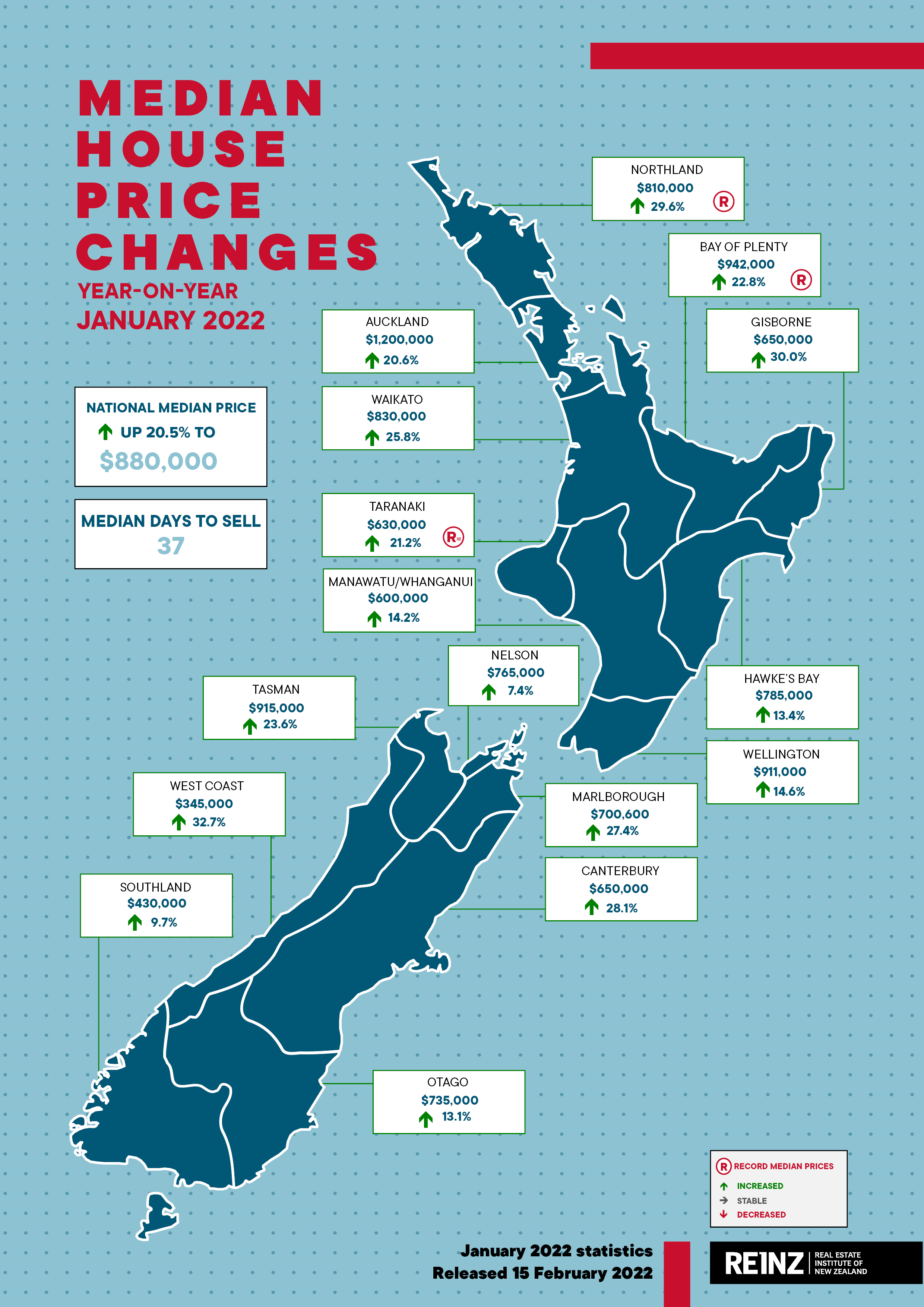 Levels of inventory continue to increase
In January 2022, the total number of properties available for sale nationally increased 28.5% as more homeowners chose to list their homes for sale, increasing from 15,480 in January 2021 to 19,897 — and an uplift of 18.6% on December's inventory levels.
All regions showed an annual increase in inventory levels bar one. The West Coast saw a decrease of 23.0% compared to January 2021 — from 213 to 164.
There were some significant increases. Both Manawatu/Whanganui and Wellington recorded over twice as much inventory in January 2022 compared to the same period last year, with increases of 121.3% and 111.6% respectively.
"Throughout 2021, inventory levels in New Zealand were low, creating competitiveness. More properties on the market usually changes market dynamics, giving buyers more options, fewer competing offers, and more bargaining power.
"Property values are compelling people to sell. People are opting to sell houses in high-value locations and relocate facilitated by flexible working, and as inventory increases, owners are more confident they can sell and subsequently find a suitable replacement home," Shaun says.
What's to Come
What does this mean? Have we all of a sudden gone from a sellers' market to a buyers' market? Has there been a shift in power in such a short period of time?

Shaun doesn't think so. "The market is in a period of lux, in the last quarter of 2021 there was still incredibly strong demand in all markets, with homes reaching record prices. This has started to ease off with median prices dropping slightly over the last two summer and holiday months, but homeowners are still in an incredibly strong position. If they have owned their homes for more than two years they are likely to have experienced up to 40% increase in the value of their home, so if they are selling they are still selling into a market that will give them significant buying power plus they have more choice due to increased listings.
"That is the key if you are buying and selling in the same market then you are in a good position, and because the market has evened out somewhat it means there is less risk of putting your home on the market prior to buying. Less exposure to increase in prices.
"What will be important is understanding what your buying power is likely to be, so I suggest you talk to a good mortgage broker, who will guide you on any changes you may need to make to your spending habits, and what your likely lending capability is with different banks. If I was selling in this market, a good mortgage broker would be the second person I would call after I had contacted my local Professionals office for a Free Market Appraisal to get the most up to date guide on the value of my home available."