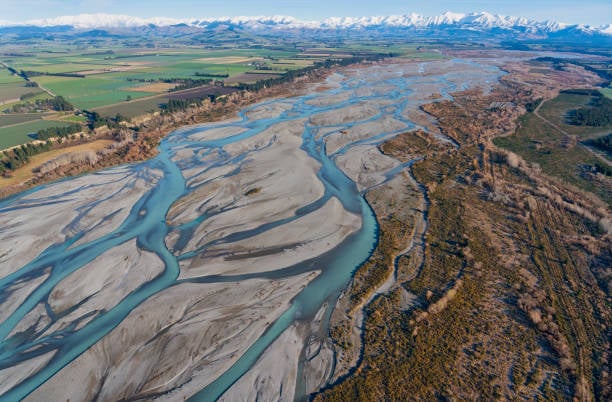 Top 5 Things You need to know about the market:
February price values are up 13.5%, compared to 2021 and up 20.6% outside of Auckland
House price changes vary regionally - some regions are up some are down compared to January 2022
CCCFA correction announced on 11 March will bring more buyers to the market with bigger budgets and hence increase demand
The number of properties for sale is the highest it has been for some time, there is more choice and supply
The market is in a time of change, now is a great time to sell, talk to your local experts
February shows property prices continuing to climb annually but now at a more moderate pace. While sales activity is down, demand remains and stock on the market is up, according to the latest data and insights from the Real Estate Institute of New Zealand (REINZ).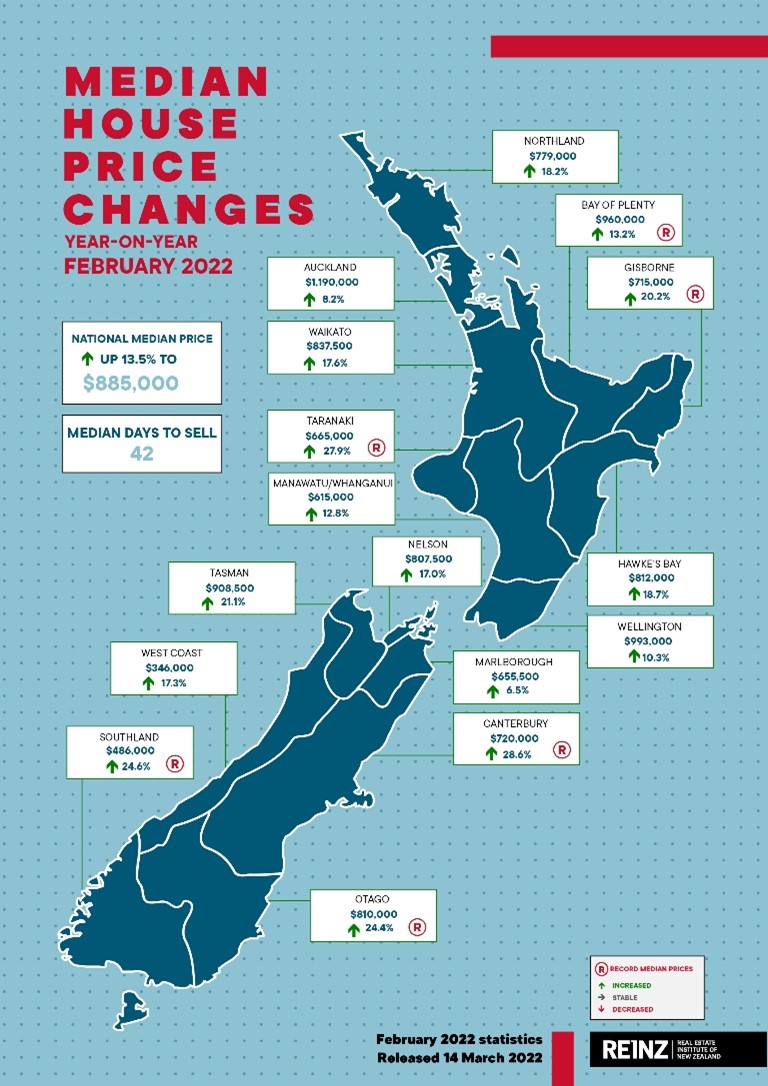 Median prices for residential property across New Zealand increased 13.5% annually, from $780,000 in February 2021 to $885,000 in February 2022.
The median residential property price for New Zealand excluding Auckland increased 20.6% from $651,000 in February 2021 to $785,000 — a new record high.
In February, six regions achieved record medians, making this an above average February month, and there were 23 territorial authority (TA) median records. Regional records were achieved in:
Canterbury — increased 28.6% annually from $560,000 to $720,000.
Taranaki — increased 27.9% annually from $520,000 to $665,000.
Southland — increased 24.6% annually from $390,000 to $486,000.
Otago — increased 24.4% annually from $651,000 to $ $810,000.
Gisborne — increased 20.2% annually from $595,000 to $715,000
Bay of Plenty — 13.2% annually from $848,250 to $960,000, a new record median high for the third month running.
Shaun Taylor, Chief Executive at Professionals, says: "Market mood has evolved in recent months, as evidenced by the February statistics. While prices remain strong, with annual increases in all regions, the monthly changes in value indicate and easing overall in price growth. the number of sales continues to decline, and an influx of stock across New Zealand is relieving demand side pressure.
Jen Baird, Chief Executive at REINZ encourages sellers to speak to an agent to get an informed picture on the state of the market. "For those selling, conversations with their real estate professional will help provide a better understanding of what is happening in the market right now, get a feel for market values and the most effective approach to achieve the best outcomes." Baird says.
Levels of inventory continue upward trend
In February 2022, the total number of properties available for sale nationally increased 47.0%, increasing from 15,829 in February 2021 to 23,270. All but two regions (West Coast and Gisborne) showed an annual increase in inventory levels. Manawatu/Whanganui and Wellington again recorded over twice as much inventory as they had one year ago, with increases of 161.7% and 143.4% respectively.
"With market prices still strong and more properties available giving those who are upsizing, downsizing or looking for a change confidence, people are incentivised to sell – bringing more stock to the market. Further, with properties taking longer to sell in most regions, stock is building.
"In economic terms, greater supply and less demand will alleviate competition in the market leading to less upward pressure on property prices," Baird says.
Inventory data comes from realestate.co.nz.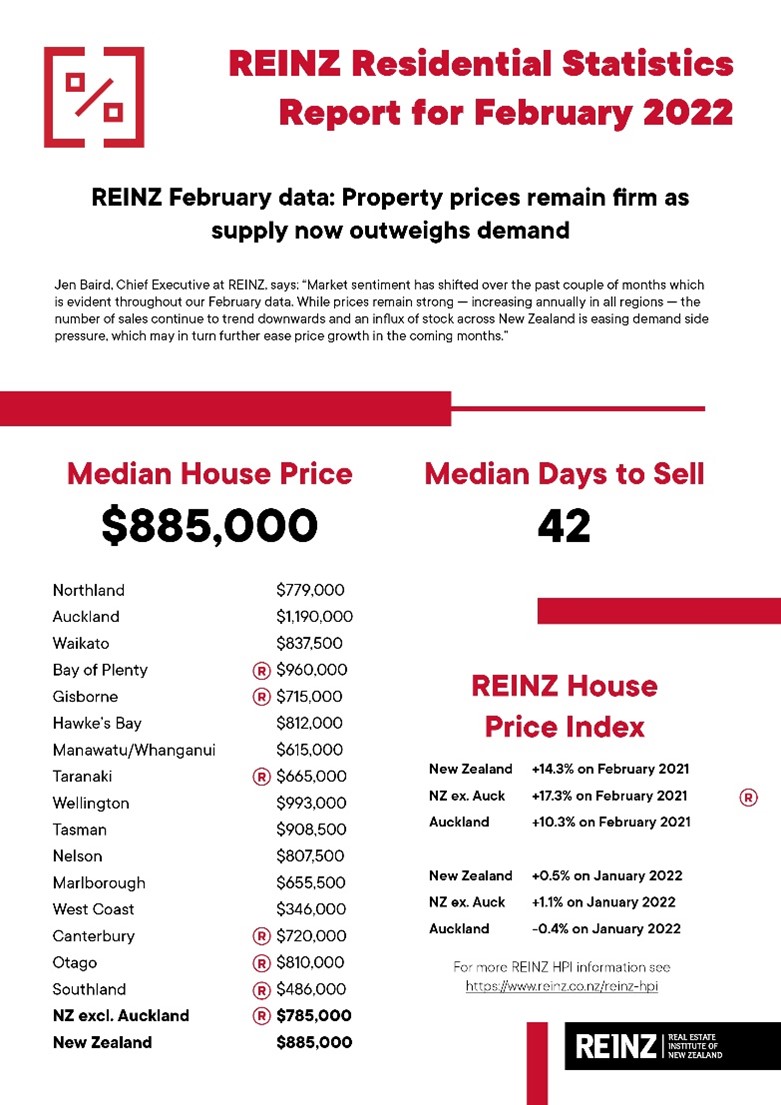 What's to Come
Shaun Taylor, Chief Executive at Professionals says that February's data shows the market in a state of change. "Auckland price growth slowed significantly, while there is still strong growth in some of the regions. The impacts of the CCCFA, brought in on 1 December, has seen the biggest tightening of credit since the GFC, and has impacted the market by decreasing the amount of money buyers have been able to borrow to purchase a new home.
"This has increased the average number of days to sell and slowed the real estate process. It is a relief for the market that changes to the legislation have been approved by Cabinet which will effectively see us return to a lending environment very similar to what it was prior to the Act coming into effect on 1 December 2021.
"This will bring more balance to the market and is likely to see us return to a more "normal" and stable market. The key reasons for this are: while the CCCFA has dampened demand, supply has increased, reducing the FOMO effect; when the changes to the CCCFA are made to the Act demand will return to the market balancing the increased supply; interest rates are still historically low and are likely to remain so for some time.
Shaun does raise an air of caution with respect to current global issues. "Of course there are two 'elephants in the room'. The first is rising inflation, and what steps the Reserve Bank will need to make to pull it back to within its guidelines, and the second is bigger, Russian and unpredictable. We are so far down the path of war that there will be long lasting impacts on the world's economy and geo-politics, however it is difficult to predict at this stage what impact it will have on the housing market as it depends on many factors out of New Zealand's control."
If now is the right time for you to sell, there is one key consideration and action you should take according to Shaun. "Due to the regional differences in terms of price strength, the best way to get a guide on the value of your home, in your market is to talk to your local Professionals team. They are your local experts, and they know what is happening real time in your area with respect to prices that homes have sold for similar to yours and what is happening to demand. Now is a great time to sell, and to get the most value out for your home in this market you need to sell with your local Professionals team."