March was another interesting month in the property market, with record highs continuing on all fronts – including median price, number of homes sold and days to sell.
The arrival of new loan-to-value (LVR) restrictions for both investors and owner-occupiers at the start of the month doesn't appear to have softened the market, much to the surprise of industry commentators.
The national median house value reached $680,000 in March and the number of homes sold was the second-highest in a single month since records began, trumped only by May 2003.
Record sales vs low stocks
"The extremely high number of sales seen in March makes it appear that there has been an uplift in listings available. However, the total number of properties available for sale across New Zealand actually decreased year-on-year," says Professionals CEO Shaun Taylor.
The number of properties available for sale in March was 19,437, which was a 6.1% decrease from March 2020 and a 31% decrease from the previous March. Despite the low stock levels, the number of properties sold in March skyrocketed to 5,849, the highest for a month of March in 14 years, indicating the continuation of a strong seller's market."
The demand for property remains at an all-time high, with Professionals agents having more buyers ready to go than listings available," says Shaun.
"The median days to sell has dropped to 26 days nationwide, showing that buyers are certainly eager and are presenting offers with fewer conditions, which can benefit sellers," Shaun says.
High values continuing
National median house prices climbed by 24.3% compared to March 2020 to reach $826,000, yet another record high. Auckland alone increased by 18.5% from $945,000 to $1,120,000 (a record), with the rest of the country increasing by 23.6% to reach $680,000.
Ten other regions reached record median house prices, including:
Northland at $710,000 (a 26.8% increase from March 2020)
Waikato at $730,000 (+22.7%)
Gisborne at $630,000 (+56.9%)
Manawatu/Wanganui at $567,000 (+31.9%)
Hawkes Bay at $711,000 (+30.5%)
Marlborough at $664,000 (+27.7%)
Tasman at $801,000 (+19.6%)
West Coast at $300,000 (+36.4%)
Southland at $415,000 (+12.2%)
Otago at $700,000 (+30.8%)
"While it's impressive that median prices have continued to reach record highs in multiple regions, the true test is whether or not this will continue through a traditionally slower period in real estate," says Shaun.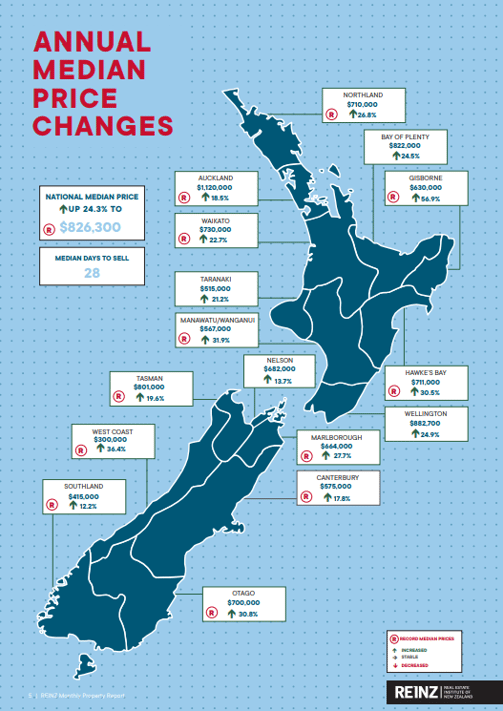 Looking forward
There is plenty of bated breath as the country awaits the impacts of the recently-announced policies aimed to curb interest from property investors and support first home buyers. Both are essentially new tax laws, with investors no longer able to deduct interest from residential property income, and the bright-line test for residential property being extended to 10 years.
"These policy changes were announced at the end of March, which means their impacts aren't reflected in the most recent REINZ data," says Shaun.
All things considered; commentary suggests that values are unlikely to drop significantly despite recent changes. The current climate is still very much a seller's market, so if you're thinking of selling, contact your local Professionals agent today for a free no-obligation market appraisal.