New Zealand's property market is in great shape and there's more to come. Following the turbulence of fluctuating markets, legislative changes and political activity in 2017, the national real estate market settled into a positive position as last year drew to a close.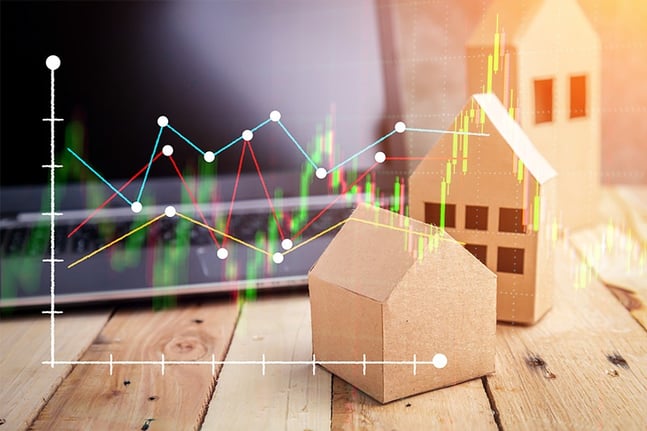 Latest data from the Real Estate Institute of New Zealand (REINZ) shows increased growth for the month of December - setting the stage for a strong year ahead and disproving ongoing speculation house prices would fall.
Instead, median house prices have increased nationally year-on-year, with three regions experiencing record prices. The developments are great news for investors and sellers who can look forward to a positive year ahead. In this blog we analyse the REINZ report.
Thinking about property investing? Check out our guide.
Prices
In the month of December, median house prices across New Zealand rose by 5.8% year-on-year to $550,000 – up from $520,000 in December 2016. REINZ chief executive Bindi Norwell said the figures were a positive sign of what's ahead. "This increase defies the predictions of many commentators who 12 or 13 months ago were adamant that house prices would fall in 2017."
Outside of Auckland, median prices increased by 6.6% to $450,000, while in Auckland prices increased 1.8% to $870,000 - up from $855,000. It is the first time all seven city districts have had a median price over $700,000. Of the 16 regions nationwide, 13 had price increases in December, with Waikato, Bay of Plenty and Wellington experiencing record prices.
Days to sell
The median number of days to sell a property nationally increased by one day (from 31 to 32) compared to December 2016. Regions with the biggest decreases year-on-year included Gisborne and Southland (both down 3 days to 28 days) and Hawke's Bay (down 2 days to 27) - the lowest number of days to sell for the month of December in nine years.
House Price Index (HPI)
The REINZ HPI for New Zealand increased 3.8% year-on-year to 2,655. Waikato, Bay of Plenty, Tasman/Nelson/Marlborough/West Coast, Otago and Southland all reached new highs during December, indicating strong value growth in these areas.
Auctions
Auctions represented 14% of all properties sold in New Zealand in December, down from 18% in December 2016. More than half of these (55% - or 455 properties) were in Auckland, 13% (105) in Canterbury, 8% (68) in Waikato, 4.5% (38) in Wellington, 4% (29) in Otago, and the remainder were spread across the rest of the country.
Inventory
The number of properties available for sale nationally increased by 9.3% compared to 12 months ago. Regions with the largest increase year-on-year in the number of properties for sale were Auckland, Wellington and Canterbury.
Regions with the biggest decrease year-on-year in the number of properties available for sale were Taranaki, Hawke's Bay, and the West Coast.
Price Bands
Between December 2016 and December 2017, the number of homes sold fell in every price bracket except for the $2million to $2.99 million category, which increased by 4.3%. During December, 96 properties were sold for between $2 million - $2.99 million, up from 92 properties in December 2016.
The number of dwellings sold for less than $500,000 in December 2017 fell by 18% compared to December 2016.
These latest figures show show significant change in the housing market, with further growth expected for the year ahead. If you're considering investing or selling, now could be the perfect time to turn your real estate dreams into reality.