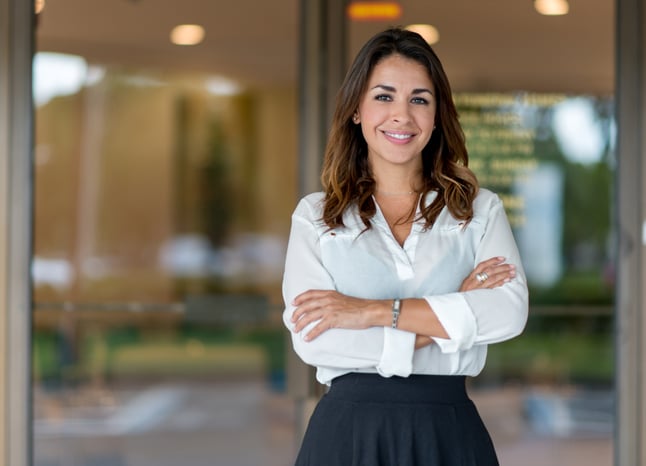 Perhaps you've been working in the real estate industry for a while – you love the industry, the challenge and the opportunity for real success. As a smart and ambitious sales-professional you might be looking to take your career to the next level. And by starting up your own business, you could do just that.
Our Pathway to Business Ownership is an exclusive programme for highly motivated, successful real estate professionals to become business owners and leaders of tomorrow. In this article we will give you an overview of the eBook to our programme and show you how it's the smartest way to turn your dream of owning a real estate company, into a reality.
Learn more about our exciting opportunity in our guide which details our programme and what it can offer you.


The smartest way in the digital world
Technology is driving change in the real estate sector and is shaping the future of our industry. When you are looking to establish your own business in these changing times you'll see that many of the new business models out there require a significant investment in people, processes and technologies when building the infrastructure to support this new way of doing business.


Our Pathway to Business Ownership programme is your springboard for solving this problem.
Mike Henderson, Professionals CEO summarises why he believes so strongly in this inspiring programme.
"It doesn't require upfront capital, nor any of the costs, complexities and controls of franchise systems. Instead it's a programme that helps you get established in your own area with a virtual office. From there, you can swiftly grow you satellite operation into a fully independent business operating from a separate office, perhaps adding in property management over time.
If you can launch your business with a low infrastructure cost, then there's a greater chance of success. When you join our group, you'll get open access to all the administrative, marketing, technologies, training and financial support our current business owners have. We don't hold anything back.
And, unlike the franchise models, you won't be told how to run your business. Our members are entrepreneurial and driven, and know what works best for them, their people and their clients.
It's the closest thing you can get to an independent business with all the benefits of a national brand."


Expert guidance and advice – every step of the way
In our guide, we explain how during the Professionals Pathway to Business Ownership programme our CEO Mike Henderson and existing business owners are alongside you every step of the way, providing the guidance, advice, strategic planning and legal assistance to ensure you hit the road running.
Our marketing, technology and business systems give you an unparalleled advantage, along with the scalability and flexibility to keep pace with your business as it grows.
The Professionals Pathway to Business Ownership is a genuine business partnership which brings your entrepreneurial vision to reality.


How it works - your four steps to success
We have a four-phase programme designed to launch your new business:
1. Seed
Designed to take you from your current situation and into the Professionals family – learning about our systems, culture and approach.
2. Growth
This is where you'll step towards ownership of your satellite area. With a strong business plan in place, you can work from a virtual office based at your home or stay on at the parent company office. You'll have assistance from your parent company but you'll be fully responsible for your area.
3. Satellite
Now that you'll have a great understanding of your satellite market, the beginnings of a property management portfolio in place, and the skills and resources to operate independently, you'll be ready to set up your limited company and move into your own premises.
4. Agency
At this point you may decide to get your own Agency Licence and operate completely independently of your parent company.
See our full eBook to get more details about these steps to success.
As part of the Professionals family you can trust that your ambition and courage to step out on your own will be rewarded not just through your income and annual profits, but also by the highly valuable asset you have strived to build.


The right mix of freedom and support
Our Professionals Pathway to Business Ownership programme offers you the opportunity to:
Create wealth for your future
We know that taking that next step to start your own business is a big one. It's important to do your research and know your options. Our programme offers you the opportunity to make that step into independent business, backed by guidance and experience – a helping hand to bring your dream to life.
---
To find out more about taking the next step in your career, download our latest eBook, How to start your real estate business – Pathway to Business Ownership: a programme for high-flyers who are ready to take their real estate career to the next level.