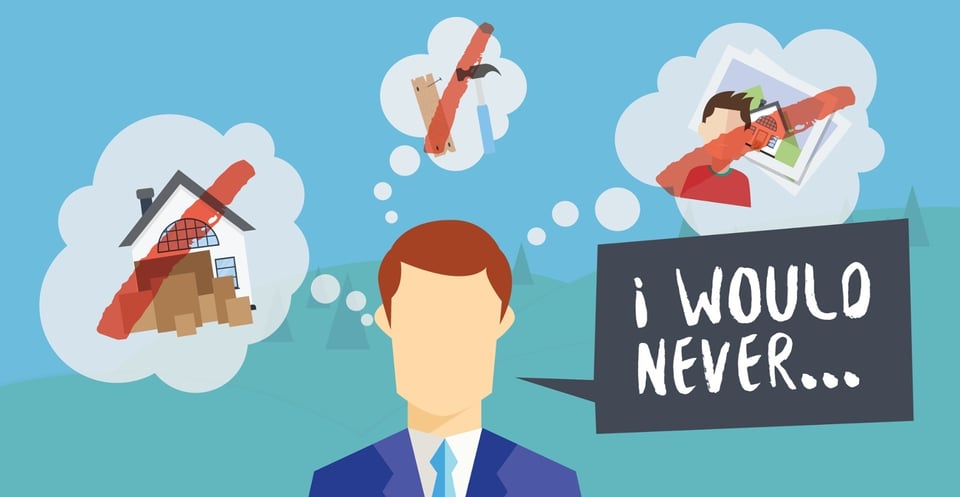 Insider knowledge from the people who have been selling homes for over 20 years.
It goes without saying that real estate agents have a lot of experience selling other people's houses. But what happens when it comes to putting their own home on the market?
We thought it'd be very interesting to find out what they would never do themselves if they were to sell their own home, so we asked our best performing NZ agents what their top 5 no-no's were.
Getting ready to sell? Why not download our eBook "How to Get Ready to Sell Your Home". It's jam-packed full of the latest market knowledge from the experts and practical advice to get your home SOLD this summer!


#1
I would never… Sell my home myself
When it comes to selling your home, it's important to maintain an impartial view of your neighbourhood, home and goals to get a clear idea of the best strategy to sell your home. When you need a second opinion, it's unlikely that you're going to get anything from talking to yourself in the mirror, so even the experts need to call on other experts to help get things moving!



"Even as an agent, it can be really difficult to separate our personal views, expertise and experience when it comes to selling our own homes." – Sarah, Taranaki



#2
I would never… Put my home on the market without ensuring we had done a military-style de-clutter & tidy up
Nothing makes selling a house harder than trying to do it surrounded by so much of 'you' in the way. Our agents were unanimous in their agreement that it's a good rule of thumb to remove most of your personal objects; including ornaments, pictures, kids' art projects, pet paraphernalia, souvenirs gathered on your last trip to Brisbane and so on.

And deciding to sell means deciding to get things fixed and cleaned. Buyers will notice chipped paint, broken door handles and stained carpets. It's all about creating a squeaky-clean impression so your house, literally, looks like a million-dollar version of itself!

With most buyers previewing properties online these days, images showing beautiful tidy, de-cluttered spaces could be the deciding factor between someone attending your open homes – or not.



"You want potential buyers to be able to imagine themselves in your home, so giving them the visual space to do so is critical." – Sharine, Auckland
Getting ready for your first open home? Download our free Pre-open Home Checklist to make sure you get the first impression just right.
#3
I would never… Do a major renovation before selling
Time and time again our agents have come across sellers who thought it necessary to fully renovate the kitchen or install outdoor louvers before listing their home – thinking it will attract 'top dollar', when in fact, they have just over-capitalised.
Unless you're a professional property developer, be careful that what starts as a quick 'fix-up' doesn't turn into a major renovation before you sell. Your ideal buyer may have done things differently, so this could end up affecting your sale price and return on that investment in the long run.




"The important thing to do is work out what you can improve for the best possible impact, for minimal cost prior to selling."– Steve, Auckland.


#4
I would never… Let buyers through before the first weekend of open homes
There are two issues with this trap. Firstly, the people you let in the door early, may not see your home at its 'open home' best, reducing your chances of negotiating a good price.


"Having your first open home is like throwing a birthday party. If you invite everyone over to celebrate the day before, don't expect them to come to your real party…and bring presents again too!" – Sharine, Auckland

Letting buyers in outside of open homes also reduces the pool of people you'll get on open home day. Potential buyers may think that a shortage of people coming through the door is a reflection of the overall interest in your home, and they could mistakenly think there's something wrong with the property.



"More people through the door helps encourage a bit of healthy competition amongst your buyers." – Sean, Christchurch

#5
I would never… Select an agent on their fees alone without testing their marketing and negotiating skills
Before you put an agent into the 'too expensive basket', ask these 3 key questions:
What's their selling experience in your area?
What's their success rate in marketing your type of property?
How much do they think your house is worth?

Location, property type and your buyer's market will ultimately influence what type of buyers you want to have coming to see your property. Getting a good agent who understands your market, and who has had success in your area, will ensure you get the right buyers in the door and give you confidence that he/she will negotiate hard to get you the best price.
Use this


"Hiring an agent who knows their stuff could see you gain tens of thousands of dollars on your sale price. Think about how much money they can make you." - Shane, Wellington.


---

If you're getting ready to sell, why not check out our eBook "How to get ready to sell your house". It's jam-packed full of the latest practical advice, market knowledge from the experts, and extra budgeting tools to arm yourself with all the information you need to get your home SOLD this summer!